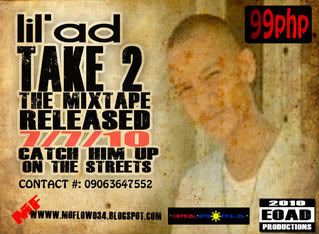 Well it's good to hear things back on track. after a year of rest from 2009
Hiphop Events E.O.A.D. is again bumping the underground spreading its
Lyrical words from West to East, North to South
Just by the first week of July Hiphop and Other Genre's were rocking out the scene
Galactic Quantum Leap of 6theNorthstar was indeed a success.
The Next day Moflow034 blog page Launches its ARTIST OF THE MONTH. which gotten
400+ views in just 2 days.
2 Days after the Blogs Artist of the Month launching...
July 7/7/2010. 11 down to 7am AD and I, was burning stuffs for you guys.
AD' Drops his 4th mixtape in titled "Take 2" this one definitely one hot shot,
18 TRACKS from Lil'Ad Featuring various artist
from different crew just like Souljah P, C'mela, Beef, Blayzey, Young Joe, Flip 1, Ahr L, CJ
Kutz, K-eddz, and a lot of those hot cats. The Mixtape is only for a hundred (100php)
it won't cost that much does it? And buying it would help someone in need. 40percent will go to a friend of ours "Ahr L" Who
got Peptic Ulcer. this ain't that big but it surely would help him support his medication needs.
Produced by : E.O.A.D productions, Moflow and 3rd world.
Come And Get Ya'll CD's Catch AD on the streets!
GO spread the Word. "E.O.A.D GOT IT BACK!"
SUPPORT YOUR LOKAL MUSICK
BY SUPPORTLING YOUR LOKAL ARTIST