Well Guys! Moflow artist of the month is up to its first week!
To start things up I got my Man Dhubbly being featured in JULY week one.
Dhubbly was my Sound Design mentor, this dude thought me a lot of techniques
from the basic fundamentals up to his farthest ability in making music.
INTERVIEW:

MOFLOW:
How did it all started? You being dhubbly?
DHUBBLY:
It was bout my curiosity with music that started it all. Cause of that I wonder how do musicians made those kinda complex ear candy tunes. With just an acoustic guitar I started to learn simple chords, majors, the minors and in between. Playin some classic shit like jazz, rock and my favorite reggae.
Then during my high school era I was a part of a punk/ska/reggae band, Javaskaggs which gave way more to my affection with music. But unfortunately we disbanded, right then on I explore more on music production. I stumbled to this software, Fruity Loops--My weapon of choice until now, hope Fruity Loops will sponsors me.hahaha . Started doing lazy ass beats and melodies with it. For a start I concentrated on Dub music which my name came from, Dhublly. Then on I explore producing different categories of music, hip-hop, trip-hop, electronic, dub-step (fcukyeah!), house, ambient, experimental etc.
MOFLOW:
So what makes you unique from others?
DHUBBLY:
Listen to Dhublly. (hehe)

MOFLOW:
That was a clever answer! (hahaha) so sir! who influenced you in making music?
DHUBBLY:
My influences are around me, my friends, the people I work with, even you the listeners. (may gapamati haw? hahaha)
MOFLOW:
Of course! may ara na Sir ya! haha..What are your message to those who wants to be a producer in the future?
DHUBBLY:
Fuck genre! make beats from your heart not from what is "USO". If you guys wanna learn, I could teach you the basics of music production. FOR FREE! hahaha
MOFLOW:
haha Now You have read it guys from dhubbly For free daw sabi nya! haha
any upcoming shows? albums? where can they find you?
DHUBBLY:
Just tune in to my facebook, sometimes i post out latest tracks with links and its free download. but if you really wala check me out "rockin the turns" you could go to my place.
Check out Six the Northstar - The Galacticquantumleap EP!
MOFLOW:

Any Shout Outs?

DHUBBLY:
hout out to my kid ,dylan. my inspiration in life.
six the northstar, tungkod, nothingelse, ampon.
and to everybody!
MOFLOW: well guys that ended up our WEEK ONE ARTIST OF THE MONTH INTERVIEW
stay Tuned for the week two. Learn from them!
If you want to Contact Dhubbly there some icons bellow just simply hit Mouse-1 :)

LISTEN TO DHUBBLY's MUSIC AT SOUND CLOUD! CLICK LINK BELOW!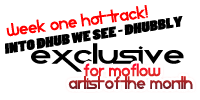 http://soundcloud.com/dhubandthebackseatdriver

This is brought to you by: MOFLOW, 3rd World, EOAD productions, TBP multimedia, TATAK BCD and WALLpapel art.